A Typical Day in Kindergarten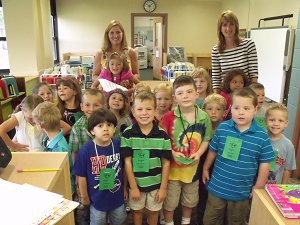 The school day begins at 8:45 a.m. when children enter the school and are greeted by their teacher. After going to their lockers, children enter their rooms and get organized to begin a new day. They then say the Pledge of Allegiance and view morning announcements.
Since the Primary Education Center is focused on literacy and language development, the school day is filled with hands-on activities concentrating on reading, writing, listening, speaking and math skills. Each classroom teacher plans his/her day according to the curriculum of the specific grade level and based on the needs of the children.
One special area class is incorporated into each day along with any necessary support services. Children eat lunch in the cafeteria with their classmates for 30 minutes.
Recess is provided each day in a variety of ways as a break from formal academics.
After a day filled with learning activities and lessons, children begin to get ready for dismissal. Teachers help their children get organized to go home and the day ends at 3:30 p.m. with dismissal to the buses.