Our New Reading Series
Pearson Scott Foresman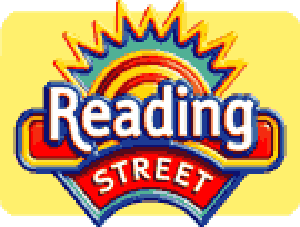 What is the Scott Foresman Reading Street?
Scott Foresman Reading Street © 2008 is an all–new reading program for Grades Pre-K – 5. Reading Street is designed to help teachers build readers through motivating and engaging literature, scientifically research-based instruction, and a wealth of reliable teaching tools. The program takes the guesswork out of differentiating instruction with a strong emphasis on ongoing progress-monitoring and an explicit plan to help with managing small groups of students. In addition, Reading Street prioritizes skill instruction at each grade level, so teachers can be assured they will focus on the right skills, at the right time, and for every student.
How was Scott Foresman chosen?
During the 2006-2007 school year, nine teachers piloted three different reading series and later the faculty voted on the one they thought would be most appropriate for our students at Lewiston-Porter.
When did we purchase the series?
$150,000 was secured from the district budget for the elementary Reading Street Program which allowed for each classroom teacher to have a full compliment of materials and technology resources delivered during the summer of 2007.
How are the teachers being trained to use the new Reading Program?
During the summer, a staff development orientation program was provided for teachers. They were shown how to use the new series. Follow-up workshops are being designed monthly to help them to integrate the program by grade level. Professional Development support is provided by Mrs. Patricia Loncto and Nicole Berry, consultants for the District and Pearson Scott Foresman. The teachers work together to learn how best to utilize the materials based on the Performance Indicators mandated by New York State Department of Education at their grade level meetings.
How is it received by the children?
Teachers are amazed at the level of engagement that children are reaching by using the program as the core instructional program for reading at the Primary Education Center.

The stories are interesting and the teachers are amazed at how well the students learn the skills as it is repeated many times over a course of the unit. The essential questions help focus the learning objectives so that teachers can help students make connections from school to home.
What are the challenges of learning a "new reading series"?
The challenges are that everyone is learning something new at the same time. A new series is different; quick paced and requires small group instruction as a best practice teaching method, guiding the reading at different levels. It takes a great deal of planning, learning, assessing and developing lessons that are integrated into the "new series format". It is a lot of work to monitor each child's progress as a unit is taught.
Why are we changing our reading Programs?
We are changing our reading program because we need to be current, research based and aligned with New York State. Our reading program must be accessible for all children in multi-media formats through digital learning.
What is the goal in introducing a new reading series?
We want our children to have the best teaching resources. We want our teachers to teach current teaching strategies. We want quality instruction to make children better readers, writers and learners. All children have the right to quality instruction and personalized programming to meet their needs. At Lewiston-Porter we "aim higher" to meet the New York State Standards.
Please contact Mrs. Beach for more information about our Reading Program at 286-7220.