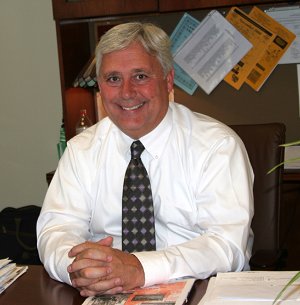 Message from the Superintendent
Chris Roser
.
The Board of Education, administration, and bargaining units of the Lewiston-Porter School District continue to work collaboratively and cooperatively in containing costs for residents and taxpayers of our school district. The proposed budget is not only less than last year's budget, but is less than the budget approved 5 years ago. This year's budget is actually
$1,079,126 less than the Budget of 2009-10
!
Year Budget Plus or minus
2009-10 $41,080,494
2010-11 $40,094,658 minus $985,835
2011-12 $40,233,491 $138,833
2012-13 $40,472,775 $239,284
2013-14 $40,001,368 minus $471,407
A number of factors are affecting the development of the District's budget…
· Student Enrollment
· Gap Elimination Adjustment and
· Tax Threshold.
Enrollment in our school district continues to decline…we have 163 fewer students attending Lewiston-Porter than we had just 5 years ago.
Year # of Students Plus or minus
2008-09 2,389
2009-10 2,366 minus 23
2010-11 2,357 minus 9
2011-12 2,304 minus 53
2012-13 2,257 minus 47
2013-14 2,228 minus 29
minus 163
Subsequently, staff reductions have strategically taken place over the past several years to balance smaller enrollment projections. Including the reduction in staff under the proposed budget, over 69 positions will have been eliminated in our district over the past 4 years.
Despite reducing our overall budget and eliminating a number of positions, balancing our revenue and expenditure budgets has become increasingly challenging. School districts are now required to create budgets which were limited by a "Tax Threshold", using a formula designed by New York State to contain costs to the state's tax payers. The Tax Threshold for our district was calculated to be 4.00%. However, NYS has, through the so called "Gap Elimination Adjustment" (GEA) taken significant amounts of State Aid from school districts across the State. In 2009-10, L-P received $13,032,994 in Instructional Aid…next year we are scheduled to receive $10,741,770 in Instructional Aid…a decrease of $2,291,224! Over the past 4 years, L-P has received $9,405,47 less in State Aid from 2009-10 due to the Gap Elimination Adjustment. Filling this loss in aid has been put squarely on the backs of the local school districts, which is why the proposed increase in the tax levy has been set at 5.52% rather than the 4% tax Threshold.
Students in Lewiston-Porter continue to excel in all areas. Our district has continually risen in Business First's rankings of the best schools in Western New York. Of the 97 school districts of Western New York, L-P has risen in ranking from 20th in 2007 to 6th in 2012! Rankings for 2012-13 have not been completed at this time, but results from the School Report Card seem to indicate that we will continue to excel as a district, offering a high quality education to our students. The district's complete 2010-11 School Report Card may be found on the district's website at www. lew-port.com.
Please take time to review all material within this newsletter and come out to vote on May 21st at the Community Resource Center. Polls will be open from 8:00 a.m. to 9:00 p.m. Additional copies of this newsletter, school report card, and budget are available in the District Office and on the district's webpage.
Respectfully,
Chris Roser
Superintendent