KID HELPERS
Character Education Program
Primary Education Center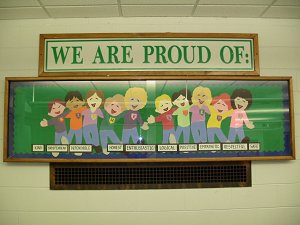 KID HELPERS is the character development program for the
Primary
Education
Center
. Its purpose is
to create a common language among staff and students to pr
omote a positive and safe learning environment.
KID
HELPERS is based on the principles of the "Love and Logic" program.
To help our students become good citizens at school, at home and in the community, KID HELPERS programs and activities are designed and run by a committee of teachers and parents working together. Every year a theme is picked such as Safety on the Bus Line or Good KID HELPERS in Specials. Programs are planned around the theme, including a school wide kick-off assembly each year and a home-school project. We also have an on-going KID HELPERS program in the Kindness Cafe called "Go Green".
The PEC is decorated with KID HELPERS displays including poetry written especially for our students by Pat Whitney, retired teacher. Some of the poerty was put to music by former PEC teacher John Diodate. The poems can be found on this website and in the front hall of the school. The students learn the songs in music class.
Each letter of KID HELPERS stands for a character trait. These traits are taught and reinforced each and every day at the PEC. Be a KID HELPER!
K ind
: Help others in need. Do kind acts and use kind words.
I ndependent: Take care of yourself and your belongings.
D ependable: Be someone others can count on.
H onest: Tell the truth and keep your word.
E mpathetic: Think of the feelings of others.
L ogical: Stop, look, think and solve.
P ositive: Give it a try and don't give up.
E nthusiastic: Be eager and enjoy.
R espectful: Treat others the way you want to be treated.
S afe: Prevent yourself and others from being hurt.