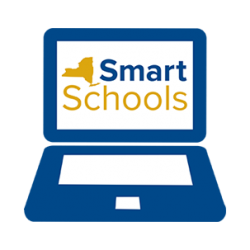 In 2014, New York Governor Andrew Cuomo called for a technology investment of $2 billion into schools across the state. This initiative became a public referendum that was approved by voters in November 2014.

The Lewiston-Porter CSD's Smart Schools Bond allocation is $1,354,745.

High-Tech Security Project:

The district looked to upgrade the high-tech security features of the campus. A projected scope and cost for that work can be found in the attachments below.

The district applied to start work on this project in July 2016. As of May 22, 2017 - the district was waiting on review board approval, and when that happens, we could begin the work on the project. The general scope of the work can be found in the links below.

A goal for the district is to provide technology tools to teachers and students across the district to enhance and expand the learning experience for students at Lewiston-Porter.

With this project, we looked into purchase iPads, Chromebooks, and other devices to aid students and teachers in the learning process. As part of the project, we worked with our local non-public institutions, purchasing items for them to use, as well.

Please open the link below to review the project that was presented at the public forum at the May 23, 2017 Board of Education meeting.

Classroom Learning Project:

As part of our strategic plan, we have a focus on innovative teaching and learning. In an effort to support this goal, we are upgrading classrooms with state-of-the-art interactive boards and software to help enhance daily instruction. For this new technology to work properly, the boards need to be operated by up-to-date windows machines in each classroom. The remaining money that is left over in Lewiston-Porter's SmartSchools allocation will be utilizied to help outfit classrooms with updated desktop computers for this purpose.