Director of Technology & Data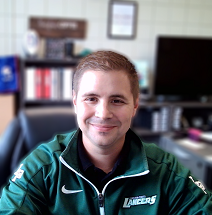 Phone: 716-286-7295
Email:
Degrees and Certifications:
Canisius College: Bachelor of Science: Biology Master of Science in Education: Adolescent Ed. Master of Science: Educational Leadership Certifications: General Science 5-8 Biology 7-12 School Building Leadership School District Leadership
Mr.

Nicholas Hill

For the last 3 years, I have been so honored to serve Lewiston-Porter Central School District. During my first year, we were struck by the storm of the COVID-19 pandemic. This historic event re-defined education. All of us had to adjust to new methods of teaching and learning and to innovative uses of technological resources. As we move into the 2022-2023 school year, I look forward to hanging on to all that we have gained technologically and educationally in that experience and pressing forward stronger than ever.

I am pleased to announce that we have made some significant upgrades since last year that will keep our district on the cutting edge of educational technology. Here are some of the highlights:

~All instructional rooms are now equipped with a 75" 4K Viewsonic Interactive Display that is packed with interactive tools. This will be a significant upgrade over our former SMART boards/projectors.

~All students in grades K-2 have access to 5th generation iPads or better. They have all been switched over to a new device management program to improve software management and updates.

~All students in grades 3-12 are assigned a chromebook. Students in grades 3-11 will have upgraded 2-in-1 Chromebooks that allow for use as a traditional Chromebook and also as a touchscreen tablet. This upgrade cycle will be completed in the 23-24 school year. All students have a device that is 3 years old or less. All these devices are under warranty to ensure all students have access to quality devices.

~This summer we have upgraded our wired and wireless infrastructure, providing improved network speeds and reliability.

~All Chromebook users will have GoGuardian Teacher installed. This tool allows for excellent classroom management, monitoring, and instructional support for our students.

~We are committed to ensuring digital equality for all of our students. To that end, we have secured mobile hotspots that families can request in the event that they lack access to internet services.
Meet the Technology Department
Members
Ken Bass

MicroComputer Tech. Support Specialist

Mon-Tues

On-Site Technology Support

Senior
Specialist


Erie 1 BOCES

MicroComputer Tech. Support Specialist


Erie 1 BOCES

On-Site Technology Support
About Us
Lewiston-Porter operates a sophisticated network facilitating fast, reliable access to a wealth of resources accessible on both our internal network as well as globally.

Our local area network is comprised of over 400 Windows computers along with nearly 1000 iPads and more than 1500 Chromebooks. Our Technology Department maintains all of these computers, chromebooks, tablets, interactive displays, printers, and other related equipment. We also plan for network improvements, staff development in cooperation with Erie 1 and Orleans/Niagara BOCES, and future upgrades to existing equipment.

In cooperation with Erie 1 BOCES, and as a requirement by New York State, we have a newly developed District Technology Plan for 2022-2025. This was derived directly from our District Strategic Plan. The plan was approved by our Board of Education and has become the blueprint for the planning of our technology in the district.
E1B Service Desk
Staff members that require assistance always have access to the service desk by calling 716-821-7171 during the school day. The service desk will create a ticket on you behalf and assign it to the appropriate team members for quick resolution.

You may also email the team at wnyricprod@service-now.com any time.